Feature Articles: Artificial Intelligence Research Activities in NTT Group
Business Transformation Using Artificial Intelligence at NTT Communications
Abstract
At NTT Communications, we are actively introducing artificial intelligence (AI) in our operations, solutions, and services. In this article, we introduce some of the efforts underway to transform existing business models using AI at NTT Communications.
Keywords: artificial intelligence, operation, IoT
1. Introduction
NTT Communications held the NTT Communications Forum in October 2015 and had the highest number of visitors ever. Exhibits related to Internet of Things (IoT) and artificial intelligence (AI) attracted a great deal of interest.
We are currently experiencing what has been described as the arrival of the third AI boom. Leading domestic and foreign information technology companies are intensifying their AI-related projects, and the work we are doing at NTT Communications has been receiving a lot of interest from our customers in various fields.
There are three factors that have led to this AI boom. The first is big data. With the advancement of IoT, it is estimated that approximately 50 billion devices will be connected to the network in 2020, with even larger amounts of data collected from those devices. The second is the improvement in processing capacity. We can now process complex calculations that were not possible a decade ago. The third is the technological innovation of deep learning*1. This technology has contributed to significant improvements in voice and image recognition accuracy. The conditions are now such that this AI boom will not simply end as a mere phase; we have the potential to apply AI to change the business structure itself in various fields.
2. Enhanced services by using AI
NTT Communications aims to improve its cloud services based on its company slogan Global Cloud Vision by using AI technology and also to contribute to its customers' business innovations. We introduce here some of the latest AI services and functions NTT Communications plans to launch in 2016. These services embody the concept of Agent-AI that the NTT Group is developing.
3. Use cases in customer service
For several years, we have collected and analyzed big data related to service operations such as troubleshooting, service order and delivery records, inquiry histories, and machine logs. However, we also have experienced the limitations of dealing with a huge amount of data manually, and this is why we have focused on AI.
We now introduce two use cases involving customer service.
4. Use of deep learning to analyze the meaning of IoT data
Future IoT equipment*5 is not limited to consumers; it will become widespread in businesses from the industrial field to the entire social infrastructure and is expected to continue growing rapidly. In such cases, it is extremely difficult to analyze the wide variety of big data by human power alone. In addition, each customer demands automated services involving collecting and analyzing big data and taking actions based on them.
To address this situation, NTT Communications is focusing on deep learning. In particular, we aim to develop deep learning technology that can handle time-series data and multi-modal data, because IoT data is generated momentarily, and several different types of data are complexly correlated with each other (Fig. 3). This is Ambient-AI, another AI concept the NTT Group is working on.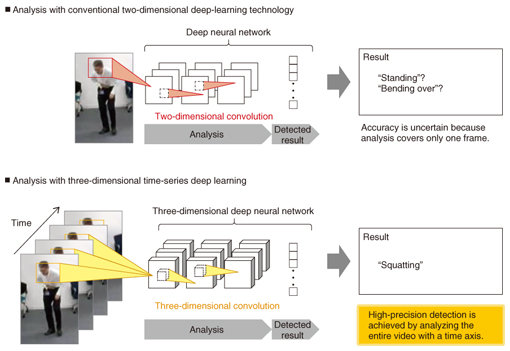 Fig. 3. Time-series deep learning.
In 2015, NTT Communications developed and evaluated time-series deep learning for analyzing the meaning of time-varying images (video). Normally, when executing image recognition using deep learning, we input pixel values of the input image into a neural network for image recognition (typically using a CNN (convolutional neural network), and the neural network repeatedly updates the weights between layers based on the difference between the calculated prediction results and the actual results. The neural network will continue in this manner in order to acquire an abstract feature to recognize the image. In our work, we dealt with not only the target pixels of the same frame as commonly used but also time information for treating successive frames at once. As a result of this approach, the machine automatically understood what happened in the video with a high degree of accuracy.
In consideration of possible real-world use cases such as automatically monitoring a suspicious person or a sick person, we tested this by identifying five types of behavior: leaving an object, restlessness, squatting, standing, and walking, and we were able to identify each behavior using time-series deep learning with approximately 80% accuracy (Fig. 4).


Fig. 4. Image analysis using time-series deep learning.
In the near future, while still analyzing time-series data, we also plan to investigate how to deal with a variety of data in a complex manner. Such data are referred to as multi-modal data. To take advantage of this time-series deep learning, we are looking into providing Video Analysis Platform Services (tentative name) that will enable the automated analysis of video data in a variety of applications such as crime prevention and marketing. This technology will make it possible to detect suspicious behavior of people in stores and manufacturing plants. It can also be applied for crime prevention measures in a number of facilities that are expected to see an increase in the number of visitors in 2020, the year of the Tokyo Olympic and Paralympic Games. We plan to work with a variety of partners to improve this service and technology to a practical level.
Future work in AI, which is said to hold the key to the fourth industrial revolution, has the potential to fundamentally alter the structure of various industries. We will continue to work on the challenge of creating new markets while utilizing AI technology in order to become an ICT partner that contributes to the transformation of existing businesses and the creation of a new business model.